Same corner, same juys, same line of work
Hamilton Artists Inc., Hamilton, ON

2018/09/09 - 2019/06/01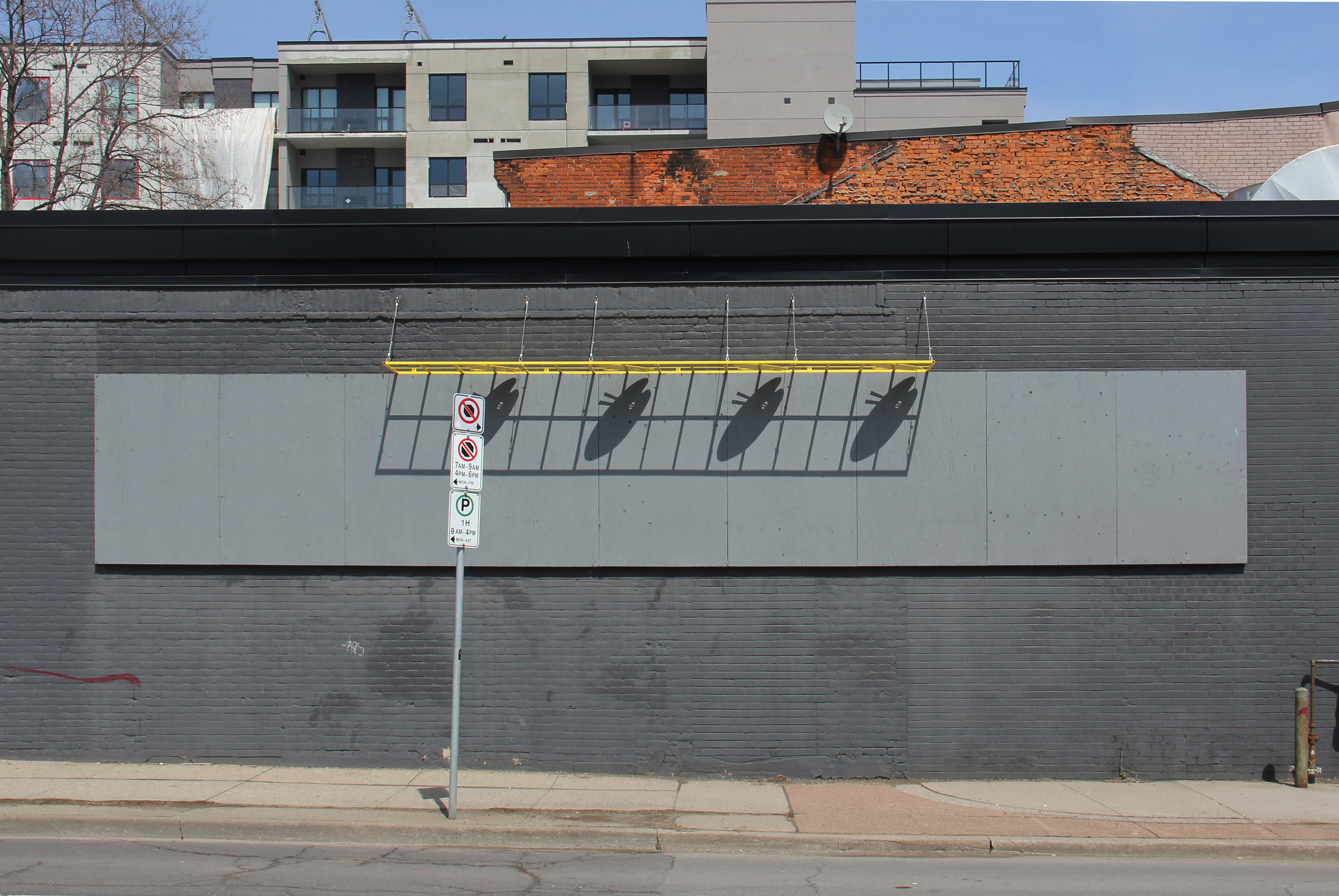 PRESS RELEASE:

Employing Hamilton Artists Inc.'s external Cannon Project Wall, Vanessa Maltese has developed a site-specific installation alluding to the longstanding previous occupants of the gallery's purpose-built facility. This subtle intervention takes graphic elements from the Jerry's Man Shop logo, a men's fashion boutique and suit shop with a storied history, which, if including Anshel Sherman's preceding tailor shop, maintained a family legacy on James Street North for over 90 years. Since 1975, Hamilton Artists Inc. has itself occupied various locations on and adjacent to James Street North. Due to reasons within and outside of its control, the Inc. relocated multiple times before carving out a permanent home just a few buildings over from its original location.

Same corner, same juys, same line of work, pares down the Jerry's Man Shop logo—which once graced the entrance to 155 James in impeccable terrazzo tile— to a disembodied motif or symbol. Rooted in Maltese's interest in challenging perception through optical illusion and figure-ground relationships, the structure attached to the wall creates shadow drawings with the movement of the sun each day. On cloudy days, the subsequent drawings will prove subtle. On sunny days, the distorted logo may resonate or otherwise create a sense of déjà vu for viewers who have experienced the changing landscape of the neighbourhood. Conversely, others, including younger generations and more recent transplants to the city, will have no term of reference at all. Ambiguous and ephemeral in nature, this installation probes the complex and entangled effects of gentrification – change, displacement, and erasure; development, decay, and renewal – and what this means to and for the people of a city.
Curated by Caitlin Sutherland

Click here to see durational documentation of the project.
Support for this exhibition was provided by the Ontario Arts Council, an agency of the Government of Ontario, Canada.
---
Copyright © 2023 Vanessa Maltese